Lately Amber has taken on more responsibility for her science learning by requesting specific topics of emphasis within the scope of our current study. She's even been intimately involved in selecting her science curriculum, which has proven to be one of the best changes we could make.
When we were given the chance to review an online science course from
Fascinating Education
, I allowed Amber to choose the topic. To my utter surprise and secret delight as a physics major, she selected
Fascinating Physics
! For the purpose of the review we were then given access to Fascinating Physics for a full year.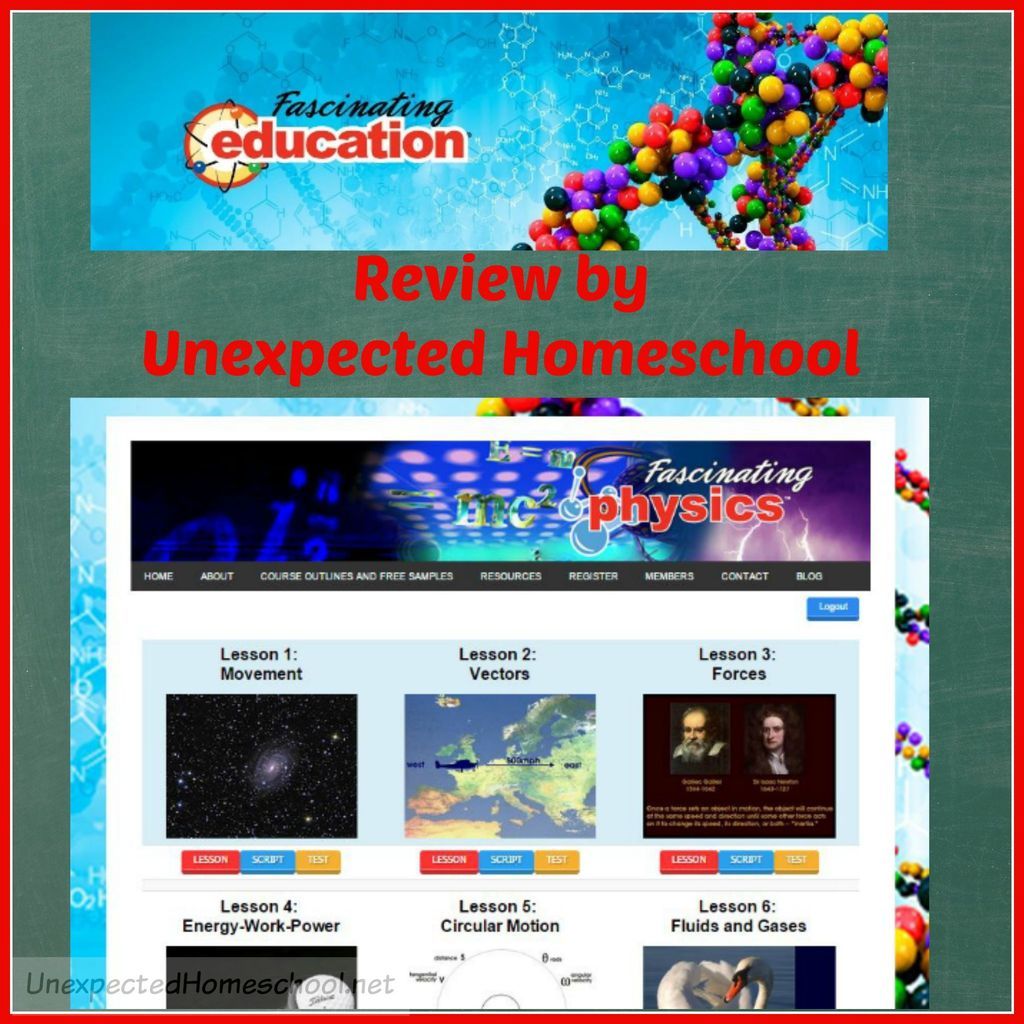 The Course:
Fascinating Physics is a high school level physics course that expects the students to have a firm understanding of Algebra and some geometry knowledge. This is not your basic middle schooler level physics, however since it is not calculus based many 8th grade students can have success with the program.
We were given a single login to use for accessing the course. There is no need for separate parent and student accounts in this program. Everything is streamline and simply accessed through your course login.
Fascinating Physics contains 15 lessons on the following topics:
Movement
Vectors
Forces
Energy-Work-Power
Circular Motion
Fluids and Gases
Waves
Light
Electrical Charges
Solutions
Electrical Currents
The Atom
The Nucleus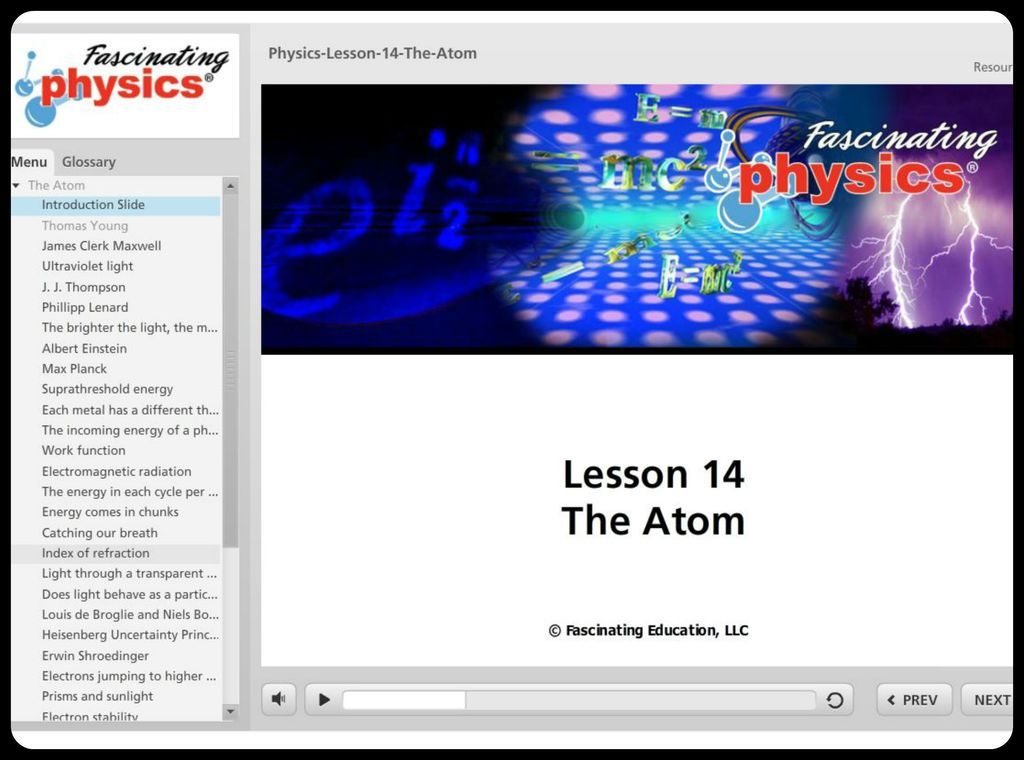 Lesson video with navigation
The bulk of each lesson is a video which the student may watch in its entirety in one sitting, or easily select to watch in smaller segments. The videos provide a topical menu on the left side to assist in accessing only particular portions of the video. The system also remembers where you left off in a video, which makes it so easy to break up the video watching.
We found the side menu especially useful when wanting to go back and review particular concepts without rewatching the entire video. It also helped us to know what might be coming up and if we wanted to pause for the day or forge through a little farther during our current session.
Each lesson also includes a PDF format script of the associated video, complete with all slides and graphics used in the lesson. This is an especially useful feature for those who have trouble with auditory instruction. They can watch the video and read along!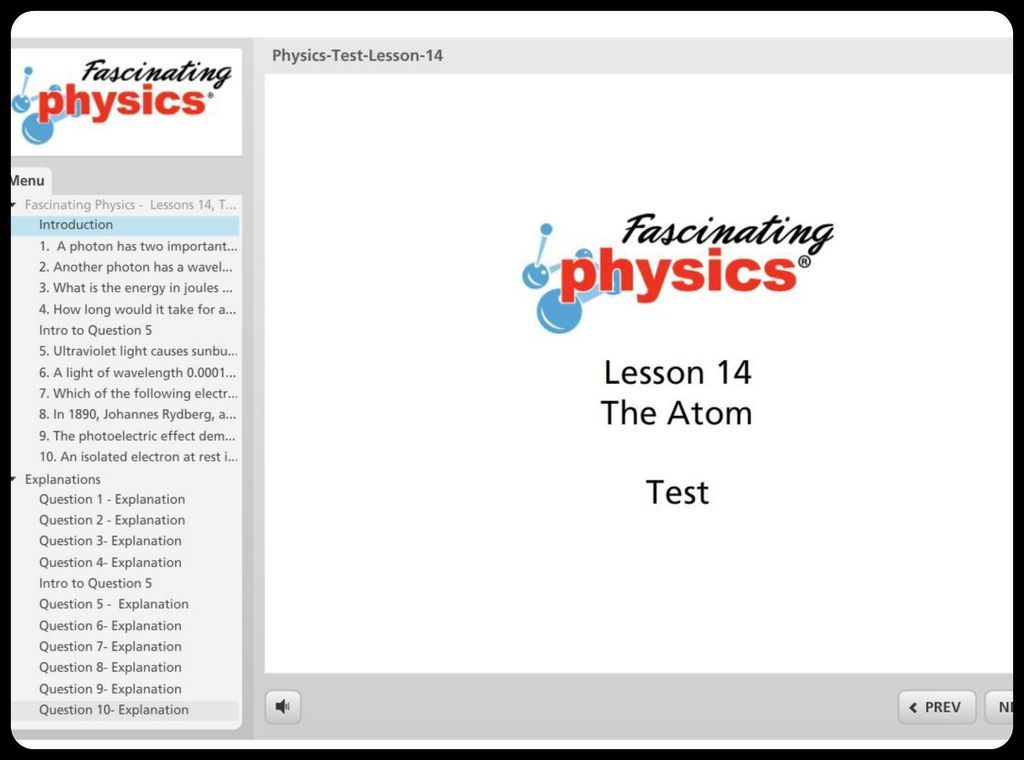 Test section with navigation and explainations
The videos themselves are very detailed and the narrator speaks slowly while clearly enunciating all words. We greatly appreciated this aspect of the videos, as it kept the speaker from distracting from the content of the lesson.
Each of the 15 lessons also has an interactive test over the material from the lesson. Again there is a menu on the left side which allows the student to see how many questions are included and access each question individually. Additionally, beneath the questions in the menu are links to explanations for each question. It is clear that the purpose of these tests are not to trip up the student, but to help reinforce their learning. The students are given the ability to refer back to information needed to assist in the test questions.
Watching her lesson videos
Our Experience
This online science curriculum is a great fit for students deeply interested in physics, but who struggle with traditional text book learning. The videos repeat and restate difficult concepts in various ways to ensure understanding before building on those topics.
However, Amber struggled with the use of this program and it was not a great fit for her. She found the repetition, which could be a life saver for many students, to be frustrating. Yet she was afraid of missing something important by skipping sections of each video. Additionally, the earlier videos are heavy on formulas; it's pretty much all the lessons are. The mathematics were not beyond her ability, it was simply the monotony of the lessons which lost her interest. While we do recognize those formulas are important for later concepts, I did agree with Amber that it could have been done in a more interesting way.
We skipped ahead a few lessons to determine if the entire course was as tedious as the first few lessons, and can happily report it becomes more fascinating. However, it will take some deep interest or dedication to get past the first few lessons.
Although we had no technical issues with the program, we can attest through first hand knowledge that the customer service at Fascinating Science consists of some of the nicest people who truly want your student to succeed with their program. I would not hesitate to contact them if any problem occurred. They are prompt, polite, and extremely helpful.
Overall, Fascinating Physics is a well designed, and easy to use online science curriculum which provides various methods to ensure the success of the high school students.

***
Visit other members of the Review Crew for their experiences with Fascinating Education!

---